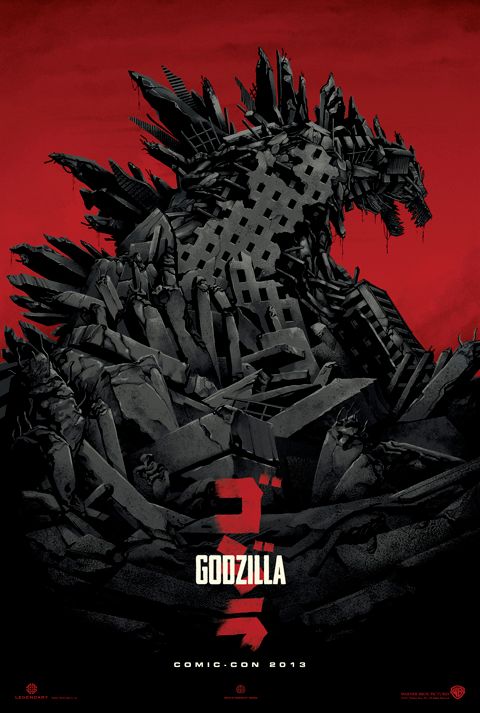 Logo created by and owned by Legendary Pictures, the character Godzilla himself belongs to Toho Co. Ltd. This image is being utilized for promotional use regarding the upcoming Godzilla 2014 film. This blog serves as a fan-centered outlook written by Kaiju Galaxy fans in preparation for the next installment in the Godzilla Franchise. News will be posted and cited from various different sources and updated on a regular basis. If you would like to participate in our discussions, join Kaiju Galaxy
___________________________________________________________
______________________________
March 1, 2014
Author: Donny Winter

The second trailer (the official one) for the upcoming Godzilla film has received 14 million views in the past three days - which is out of this world. It trended number one on social-networking sites for three days and the facebook fan-page has over 500,000 likes! Pretty awesome right?
Since then, a breathtaking issue of Empire Magazine has been released:

Are you all excited? Join Kaiju Galaxy and share your thoughts with us! Down below is the Snickers commercial featuring Godzilla:

February 25, 2014
Author: Donny Winter

My friends and fellow Godzilla fans, lets hyperventilate together. The second trailer is live!
Watch my reaction to the trailer:

Join Kaiju Galaxy and share your thoughts and discuss the movie!
February 21, 2014
Author: Donny Winter

A new poster has been released! Behold it's glory! Now we just need to figure out when we're going to see another trailer.

December 10, 2013
Author: Donny Winter

The first teaser trailer appeared today! Go watch it:
Join Kaiju Galaxy and discuss your reaction!
______________________________
December 9, 2013
Author: Donny Winter

Viral images have been released by Legendary Pictures encrypted on a really fascinating website themed around the acronym "M.U.T.O." which we know will be a recurring acronym in the film. The TotalFilm website releases this statement along with this photo (and other photos):
What is M.U.T.O.? The image shows Turkmenistan's infamous burning 'Door to Hell', which was first ignited by a Soviet gas company in 1971. They claimed the dangerous gases would burn off in a few days -- yet miraculously, it has been burning ever since. Normally accessible to the public, the image is associated with the notes that this remote destination was strangely placed on government lockdown, as the secretive group identified as M.U.T.O. established a heavily-guarded "restricted access area" for undisclosed purposes. This snapshot from a tourist shows emergency vehicles, armed troops and research crews being choppered to the scene. After decades of this mysterious inferno blazing, why is M.U.T.O. getting involved now? -- TotalFilm
This information was referenced from the Godzilla-Movies.com website and additional pictures can be found there along with videos.
The main question is, what is this mysterious M.U.T.O? Join Kaiju Galaxy to find out!
______________________________
December 3, 2013
TRAILER DROPPING SOON
Author: Donny Winter

According to this site: http://www.albertafilmratings.ca/recentclasstrailers.aspx, the trailer for the newest Godzilla movie will be 2:12 minutes in length and rated PG. It's also been rumored that the trailer will be aired during the movie "The Hobbit: The Desolation of Smaug"
______________________________
October 9, 2013
Explaining the Godzilla Nuclear Metaphor for Newer Fans

Author: Donny Winter

It's not a surprise that I've seen people claiming that the whole Godzilla metaphor is too 'deep' for Godzilla. In this YouTube video I explain the Godzilla story and the historical perspective behind it in preparation for the Godzilla 2014 movie. Please share it and subscribe to my YouTube channel. Also! It's been rumored that the first theatrical trailer has been released somewhere, though I have not found it yet. Stay tuned for more news fellow KG fans!

______________________________
October, 4, 2013
Godzilla 2014 Comic-Con Trailer Leaked

Author: Donny Winter

It's been spreading like wildfire across the internet, the teaser trailer for Godzilla 2014 that premiered at Comic Con 2012 has been leaked. View the trailer here: http://www.movieweb.com/news/godzilla-trailer-revealed Also, if the video has been taken down, watch my reactionary video - I describe a bit of it for you briefly:

______________________________
September 11, 2013
New Godzilla Image Uncovers Potential Design
Author: Donny Winter

Believe me fellow kaiju fans, I completely understand the impatience we are all feeling when it comes to hoping that we *may* see some sort of design released by Legendary Pictures giving us a look at the new Godzilla. Here is an image found from a couple Brazilian postings on the internet. Many people who went to the Comic-Con with the Godzilla teaser say that this is exactly like the one appearing in said teaser. Here's the image, share what you think by joining Kaiju Galaxy:
July 18, 2013
______________________________
July 17, 2013
Godzilla Stomps Into the San Diego Comic-Con!
Author: Donny Winter

Referenced from Godzilla 2014 Facebook Page: "Join stars Bryan Cranston, Aaron Taylor-Johnson, Elizabeth Olsen and director Gareth Edwards for an exclusive look at the upcoming film during the Warner Bros. Pictures and Legendary Pictures presentation this Saturday from 10:45am – 1:15pm in Hall H. The cast will also be signing autographs at the Legendary booth (#3920) from 1:05pm – 1:45pm following the panel."
______________________________
July 16, 2013
Godzilla (2014) @ Comic-Con and the Godzilla Encounter Website
Author: Donny Winter

There's been a lot of exciting news being released regarding the new Godzilla movie coming out in theaters May 2014. Apparently the re's big hype about a major Godzilla-themed appearance at Comic-Con which includes the launch of a website called Godzilla Encounter. The site contains a large selection of pictures and excerpts presumably from the movie no doubt aimed at boosting the virality of the movie itself. As you can see, they have drastically boosted the marketing. Go and visit the site, and stay tuned to KG for more information!

______________________________
June 10, 2013
GODZILLA 2014 SET PHOTO: NEW
Author: Donny Winter

Go over to the Kaiju Galaxy Forums to see the latest set photo from GODZILLA 2014. From the looks of it, it's two army personnel standing on some sort of hill with fire/burning of some sort behind them. Perhaps a volcano? Go share your thoughts by registering on the forums and posting!
______________________________
June 5, 2013
GODZILLA 2014, Re-Igniting Tokusatsu Fans
Author: Donny Winter

Within the past year or two Godzilla fans around the world jumped for joy upon hearing the news the Legendary Pictures under the direction of Gareth Edwards is creating a brand new Godzilla movie set to be released in May 2014. Over the course of that time we've heard little to no developments outside of a few set pictures, casting information and a couple video appearances from Mr. Edwards himself.
It has been nearly 10 years since we've been graced by Godzilla's thundering presence on the movie screen. In that time various movies and television series continuing the tokusatsu tradition have kept us fans thriving. This blog will serve as a means for Godzilla fans to express our perspectives on the news & information released regarding the movie. Stay tuned my friends! Godzilla's making a come back!